Leadership Team
Mark Lumsden
Chief Information Officer
Mark earned degrees in Technology and Business Administration, including his MBA from Drake University in 1996. He has held several IT leadership positions throughout his career, including the Director of IT for Iowa Central Community College, IT Infrastructure Management for the Iowa Department of Transportation, the CIO position for the city of West Des Moines, and the CIO role for Buena Vista University before coming to Florida Tech.
Since joining Florida Tech in June of 2021, he has restructured the IT department to better serve the technology needs of the university, including the addition of a Project Management office. He is very focused on providing the tools and environment for improved efficiency of university operations. He is also very passionate about providing the technology to improve student, faculty and staff success.
Thomas Couperthwaite
Director of Technical Support
Thomas has served the university for 15 years. He has been a key member of the Tech Support team throughout his time, providing expertise to his peers and mentoring countless student employees. He has actively worked to ensure that the campus community receives the support and tools they need, always putting the needs of the university first. He earned a B.S. in Computer Engineering from Florida Institute of Technology and a Masters in Computer Resources and Information Management from Webster University.
Eric Donath
Director of Instructional Technology
Eric drives technology innovation and adoption to improve teaching and learning across the university. His current priorities include student retention, pedagogical best-practices with teaching technologies, and streamlining workflows. He serves on the Technology, Research, & Infrastructure Committee, providing insight and recommendations to the Faculty Senate, and was named Most Valuable Panther in 2019 for developing an academic alert system.
Prior to joining Florida Tech in 2007, Eric earned a B.S. in Computer Science at the University of South Carolina and was a lead analyst at a Fortune 500 company. At Florida Tech, Eric found and embraced the opportunity to make a bigger difference. Teaching First Year Experience and similar courses since 2009, Eric has helped hundreds of new students embark on their paths to graduation. He joined the ranks of Florida Tech alums himself in 2011, earning an M.S. in Information Technology. He spearheaded the university's transition to Canvas in 2014, a move that gave every instructor space to teach in the cloud. With guaranteed uptime, 24/7 support, and multiple ways to connect to other applications, Canvas ushered in a new standard for teaching-technologies, and positioned the university for success facing the pandemic and beyond.
John D. Meyer, Ph.D., Ed.S.
Director of Audio-Visual Technologies
John holds a Doctorate and an Education Specialist degree in Computing Technology in Education from NOVA Southeastern University. He plans and directs the implementation of educational technology for campus projects and classrooms and online interactive educational environments. He also teaches graduate education technology students how to implement the latest educational technology. Before coming to Florida Tech, he completed an Air Force Career of 20 years, 6 months, and 16 days working in Computing Technology. He also worked for 11 years for Augusta State University, formerly the Medical College of Georgia, helping plan technology for new construction and oversee the transition from face-to-face classrooms to online and hybrid teaching.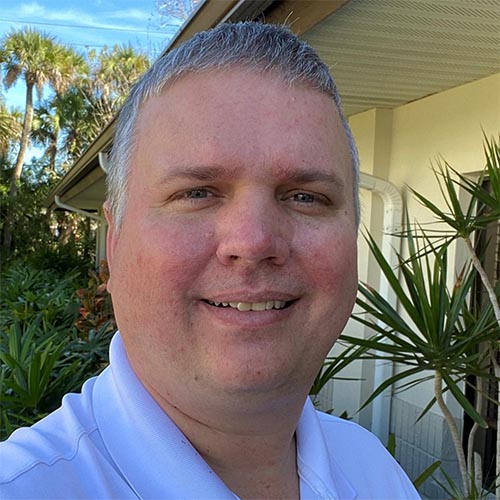 Curtis Robinson
Director of Enterprise Systems and Network Communications
Curtis started full time at Florida Tech in 2001 after earning a B.S. in Computer Science at Florida Tech. He worked his way up in various roles from Systems Administrator I, Systems Administrator II, Associate Director of Technology Support Services, and Director of Enterprise Systems. While being the Director of Enterprise Systems, he went back to school to earn a M.S. in Information Technology. Over time, he has provided leadership within the IT department and the campus community.
Melanie Schrey
Director of Administrative Applications
Melanie is an experienced IT leader in the area of enterprise resource planning systems. Driven by a commitment to process enhancement, she provides leadership for the Workday and Banner systems. As a Director of Administrative Applications, Melanie works closely with various departments on campus to support their ongoing use and development of improved business process solutions to facilitate availability, accessibility and compliance in IT solutions.