Applied Computing Center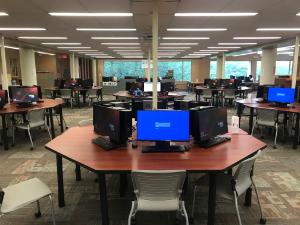 The Applied Computing Center (ACC) is located on the 3rd floor of Evans Library and features 68 Windows-based computers. All computers are networked and use the University's high-speed Internet connection.
The ACC has ample desktop space for students to bring their laptops, with the capability to power them up using the outlets in the tabletops. There is also open work table space and accommodations for students working in groups or on projects.
Printing
Printing, black and white as well as laser color, is available for a reasonable cost. Visitors must use either a Florida Tech ID card or a Library DART card for printing transactions.
You can print to any of the Evans Library printers on each floor, plus the Digital Scholarship Lab (DSL) printer, from any public computer. Mobile printing from personal devices is not offered at this time.
Policies
Reservations are not accepted at the ACC. Usage is on a first-come, first-served basis.
Usage Policies
The ACC operates on the Florida Tech network and Internet connection. Users therefore are subject to the University's defined Acceptable Use Policy. Further, as this is a public lab, pornography is strictly prohibited. Logs of all computer activities are kept, and violators will be reported both to Florida Tech Security and the Melbourne Police Department. The computers are for academic use only. Repeated disregard for these rules will result in the client being asked to leave the ACC. If the user refuses to leave or continues to use the computing resources inappropriately, he/she may be escorted out by Security and possibly banned from the ACC and/or the campus.
Resources
Hardware
The ACC features 68 Dell Precision 3430 i7 computer systems with 16GB of RAM and plenty of hard disk space. All systems are installed with Windows 10 64Bit Professional.
Software
Word-processing, statistical analysis, programming, and presentation development programs are available on the systems. See the software list for more details and/or use the Contact Us form.
If an instructor wishes to use his/her own software, software license documentation must be provided by the instructor. Additional helpful information would include how many students will be using the software, and for what duration of time (one semester or more). Please note that the instructor must have appropriate licenses and user information available before the software can be installed on ACC computers. Please see the software policies for details on software installations.
The ACC cannot provide personal tutoring on how to use the instructor's software. Software instruction should be incorporated in the instructor's curriculum. At the beginning of class it is helpful to survey the students on their computer literacy for usage with common software programs.
Internet
Internet access is available on all ACC computers. Please become familiar with policies for appropriate usage of the Internet and appropriate search topics before using a workstation.
Hours
Please see the Evans Library Hours of Operation for more information.